If yahapalana govt. had arrested Zahran over incidents prior to Easter Sunday carnage, many lives could have been saved – Sarath
By Saman Indrajith
Public Security Minister Rear Admiral (retd) Sarath Weerasekera on Wednesday (23) told Parliament that those who made public statements on Easter Sunday terror attacks without sharing such information with investigators would be summoned by the CID to record statements.
Participating in a debate on a motion by the Opposition that victims of the Easter Sunday terror attacks have not been served justice, the Minister said that if anyone had any information about the Easter attacks, it was his or her duty to report such information to the police and share them with the investigators. "It is wrong and illegal for them to make statements to the media without sharing those facts and details with the investigators. Such actions will affect investigations and create undue suspicions among people. Hence the CID will summon them to elicit information. In the same manner, anyone who feels that he or she is wrongly accused by those giving voice cuts, can complain to the CID so that the CID could investigate those false statements. He or she also has the right to seek legal redress in this regard.
"The motion being debated here states that justice has not been served to the victims of the Easter Sunday attacks. It is also said that the government is trying to silence those who raise their voice against it. This is wrong. The victims in this instance were those innocent Catholics who came to pray in the churches and innocent Sri Lankans and foreigners who were in the hotels at the time of the attacks.
They were the victims of a suicide bombing orchestrated by Zahran and his group. These attacks took place because Zahran and his group were not taken into the custody by the former government authorities in fear of losing Muslim votes.
"There had been eight incidents before the Easter Sunday attacks and the attackers should have been arrested. Zahran's younger brother Rilwan was injured while testing explosives. Three months later two police officers were killed and their weapons taken away in Vavunathivu. Then a month later the Buddha statues in Mawanella were desecrated. A month later, a large stockpile of explosives and about 100 detonators were seized in Wanathawillua.
"Two months later, Thaslin, who provided security authorities with information about Zahran and his group, was shot and seriously injured. A month later, a motorcycle fitted with a bomb was exploded by way of a test run. Thereafter, the Easter attacks took place.
"It is ridiculous to say that this government has not served justice for the victims. It is even more ridiculous that this allegation is made by those who did nothing to prevent those incidents. They could have investigated those eight preceding incidents and taken Zahran and his men into custody to prevent the attacks so that there would not have been any victims.
"We have helped the injured survivors of the Easter Sunday tragedy receive treatment and compensation. If they need anything more, we are ready to grant their requests. It is also our responsibility to bring the perpetrators of this attack to justice and to do justice to the victims.
"We are doing everything possible for their sake. The former government could not do anything meaningful for seven months after the attacks. No suspects had been detained on detention orders. Only a group of suspects had been arrested
"But after this government came to power, we made arrests. Today, there are 74 suspects in remand while 27 are held on detention orders. The investigations are in progress in a systematic manner. This government has taken all necessary steps to ensure that all intelligence agencies and law enforcement agencies take independent action against individuals involved in that heinous crime.
"We have taken steps to bring back 52 Sri Lankan nationals from foreign countries. They have been directly and indirectly involved in extremist activities. We have done so with the help of foreign intelligence services. To date, 74 accused have been indicted in ten High Courts. One case has been filed before the Gampaha High Court, two in Kandy, two in the Kurunegala High Court, four in the Puttalam High Court, two in Kegalle, two in Galle, one in Kalmunai, two in Nuwara-Eliya, and thus 24 cases in ten High Courts against the 74 accused.
Similarly, cases have been filed against 23 persons including Naufer Moulavi in Colombo on 23,270 charges, 21 cases have been filed in Kegalle and 14 in Puttalam. Other countries that have been the target of such terrorist attacks had taken five to 20 years to file such cases.
"We have banned 11 local organisations and two international organisations that nurture extremism and terrorist ideology. Also, persons suspected of extremist attacks have been blacklisted under the United Nations Act No. 45 of 1968.
"The federal court in Los Angeles has filed a lawsuit against Naufer Moulavi, Mohamed Riskan and Mohamed Millhan, who were the main accused in the attack. The Attorney General provides legal assistance in this regard. Legal action has been taken against three Australians of Sri Lankan origin involved in spreading extremism in Sri Lanka in connection with this attack.
"Steps have been taken to confiscate their properties in this country. Legal action has also been against four Maldivian nationals who had links to the Easter attackers. We have also taken steps to confiscate the assets of the National Thowhee Jamaath, which was responsible for the Easter Sunday attacks.
More than 110,000 phone calls have been analysed.
"Some Opposition MPs spoke of the mastermind of the Easter attacks. According to the evidence we have, the mastermind is none other than Naufer Moulavi, who went to Qatar in 1997 and became an extremist. In 2006, Darul Adar, an organisation was founded in Kattankudy to spread extremism.
In 2008, Naufer went back Qatar to work as an Arabic-English translator. He delivered extremist lectures to Sri Lankans in Qatar. He married off Hidayah, the daughter of his wife's sister to Zahran.
He was in charge of the ISIS branch in Sri Lanka after 2014. In 2016, Zaharan was conscripted for creating an Islamic state. The Moulavis around Zahran were ideologically driven. Through Zahran, his brother Rilwan, along with Zhaini, mobilised people through social media to work towards creating an Islamic state.
Hadiya's brother says that Naufer was behind all this. Before the Zahran's attack, they created a video where they said they were carrying out attacks for the sake of the IS sacrificing their lives for the Caliphate. In addition, if you know of any other mastermind, please let us know".
---
Earliest Sri Lanka can recover from bankruptcy is in 2027 – Dr Bandula Gunawardena
Minister of Transport and Highways and Minister of Mass Media Dr Bandula Gunawardena at a press briefing held at the Presidential Media Center today (30) said that the earliest Sri Lanka can recover from bankruptcy is in 2027, at which time it is envisaged that the countries foreign reserves which stand at USD 3.5 billion at present would increase to USD 14 billion..
Pope Francis to evict Cardinal Raymond Burke from Vatican
Pope Francis is evicting US Cardinal Raymond Burke, an outspoken critic, from his Vatican apartment and revoking his salary.
Cardinal Burke is part of a group of American conservatives who have long opposed the Pope's plans for reforming the Catholic Church.
A Vatican source told the BBC that Pope Francis has not yet carried out his intention to evict the 75-year-old and the decision is not meant as a personal punishment, the source added. Instead, it comes from the belief that a person should not enjoy cardinal privileges while criticising the head of the church.
Still, the move is "unprecedented in the Francis era", Christopher White, a Vatican observer who writes for the National Catholic Reporter, told the BBC. "Typically, retired cardinals continue to reside in Rome after stepping down from their positions, often remaining active in papal liturgies and ceremonial duties," he said. "Evicting someone from their Vatican apartment sets a new precedent."
White warned that the decision could "provoke significant backlash" and deepen divides between the Vatican and the US church, where there is already "fragmentation".
Cardinal Burke has yet to respond to the news and the BBC has reached out to his office for comment.
The Pope revealed his plan to act against the cardinal at a meeting with heads of Vatican offices last week. His frustration with US detractors who take a more traditional or conservative view on several issues appears to be coming to a boil.
Earlier this month, he fired Joseph Strickland, a conservative Texas bishop who had blasted his attempts to move the church to more liberal positions on abortion, transgender rights and same-sex marriage. The removal followed a church investigation into governance of the diocese.
A few months before, the Pope told members of the Jesuit religious order in Portugal that there was "a very strong, organised, reactionary attitude in the US church", which he called "backward", according to the Guardian.
Tensions with Cardinal Burke, who was appointed by Pope Benedict XVI, have been simmering for nearly a decade, with the American prelate openly criticising Pope Francis over both social and liturgical issues.
"Cardinal Burke's situation seems to stem from his gradual alienation from the Pope," said  White. "It appears the Pope perceives Burke as fostering a cult of personality, centred around traditionalism or regressive ideals. This action seems aimed at limiting Burke's influence by severing his ties to Rome."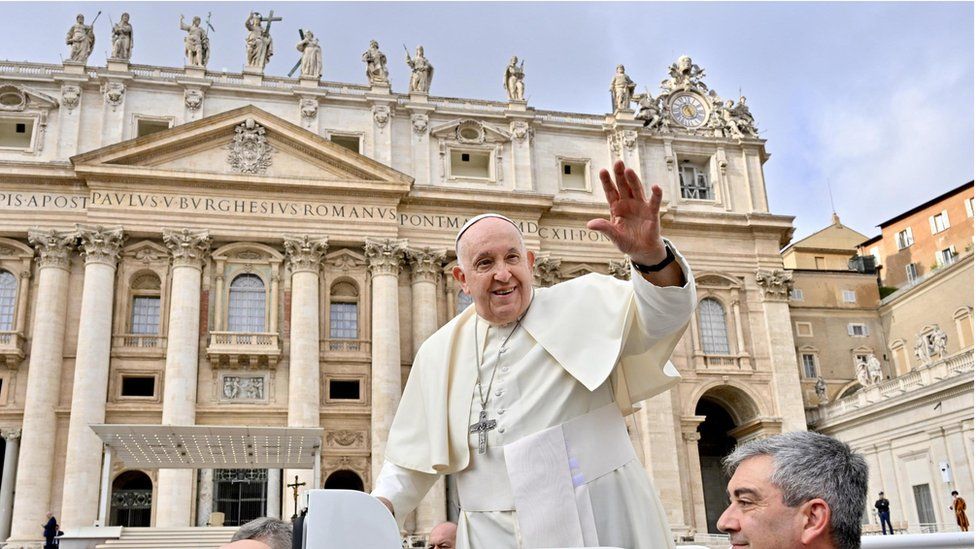 Most recently, the cardinal held a conference called The Synodal Babel in Rome on the eve of the Pope's synod, or meeting of bishops, last month.
He also joined fellow conservatives in publishing a "declaration of truths" in 2019 that described the Catholic church as disoriented and confused under Pope Francis, saying that it had moved away from core teachings on divorce, contraception, homosexuality and gender. Notably, he disagreed with the Pope promoting Covid vaccines.
Within church politics, he and Pope Francis were at odds over the firing of the head of the Knights of Malta after the order's charity branch was found to have distributed condoms in Myanmar.
The Pope, in turn, has demoted Cardinal Burke within the church hierarchy or moved him to posts with less influence over the years.
Michael Matt, a columnist for the right-wing Catholic newspaper The Remnant, wrote that the most recent action taken against Cardinal Burke showed that Pope Francis was "cancelling faithful prelates who offer hierarchical cover to pro-life, pro-family, pro-tradition hardliners". He accused the Pope of putting critics into "forced isolation".
(BBC)
Former US Secretary of State Henry Kissinger dies aged 100
Former US Secretary of State Henry Kissinger has died at the age 100.
He served as America's top diplomat and national security adviser during the Nixon and Ford administrations.
In a statement, Kissinger Associates, a political consulting firm he founded, said the German-born former diplomat died at his home in Connecticut but did not give a cause of death.
During his decades long career, Mr Kissinger played a key, and sometimes controversial, role in US foreign and security policy.
Born in Germany in 1973, Kissinger first came to the US in 1938 when his family fled Nazi Germany. He became a US citizen in 1943 and went on to serve three years in the US Army and later in the Counter Intelligence Corps. After earning bachelor's, master's, and PhD degrees, he taught international relations at Harvard.
In 1969, then-President Richard Nixon appointed him National Security Adviser, a position which gave him enormous influence over US foreign policy in two administrations.
(BBC)