Helicopters aiding flood victims in Kenya
At least 80,000 households across Kenya have been affected by heavy rainfall, flooding and landslides over the last week, the deputy president has said.
The emergency services are using helicopters to deliver aid and rescue marooned families, Rigathi Gachagua's statement says.
On Saturday, Kenya Railways said flooding and landslides along the train track between the capital, Nairobi, and the port of Mombasa had forced the operator to close its cargo services.
East Africa has experienced intense rains linked to the El Niño weather phenomenon, which have killed dozens of people, including at least 46 in Kenya. Floods have also caused deaths and displacement in Somalia and Ethiopia.
The rainfall has been described by the UN as a once-in-a-century event.
(BBC)
---
Sierra Leone under curfew after inmates freed from Freetown's Pademba Road Prison
Sierra Leone has been placed under a nationwide curfew after armed men broke into prisons, setting inmates free.
Detainees from a number of "major" facilities were released on Sunday morning, said the West African nation's information minister.
Earlier on, the gunmen had attacked a military barracks in capital city, Freetown. Residents reported hearing gunshots at the barracks, which are located close to the presidential residence.
After the attack, the Ministry of Information declared an immediate curfew. Residents across the country are "strongly" recommended to stay indoors and flights to and from the nation's only international airport have been cancelled.
The "assailants" have been pushed back to the outskirts of Freetown, Information Minister Chernor Bah said at around 13:30 (local time and GMT). He wrote on social media platform X: "Most of the city is calm and under control of the state security forces.  "Major detention centres including the Pademba Road Prisons were attacked earlier today and in the interest of protecting civilian lives (including of prisoners), the security forces were forced to make a tactical retreat."
A military source has told the BBC that some of the gunmen, including the guard of former President Ernest Koroma, have been arrested.
In the morning, the BBC witnessed soldiers in Freetown carrying heavy weaponry in a seized police vehicle and saw others chanting that they planned to "clean Sierra Leone".
It is unclear exactly how many prisoners were released but videos shared on social media show several people fleeing from the area of Freetown's Central Pademba Road prison.
One video appeared to show popular rapper Boss LAJ who was imprisoned last year on robbery charges, running free.The BBC has not been able to authenticate these videos.
On X, President Julius Maada Bio spoke of a resolution to "protect democracy in Sierra Leone" and urged citizens to stay indoors. The political situation in Sierra Leone has remained tense since June, when President Bio was re-elected – narrowly missing out on the need to have a run-off.
International observers have condemned inconsistencies and a lack of transparency in the count, as well as acts of violence and intimidation. In August, a number of soldiers were arrested and accused of plotting a coup against the president.
Eight countries in West and Central Africa are under military rule after a series of coups, including in neighbouring Guinea.
The US, European Union, UK and regional block Ecowas have released statements strongly condemning Sunday's violence.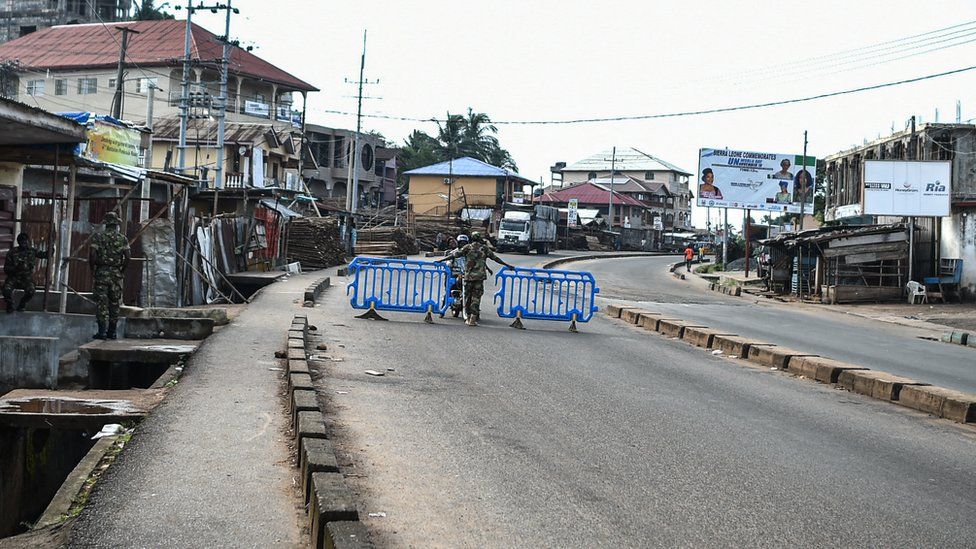 2023 ODI World Cup shatters viewership records
The 2023 men's ODI World Cup in India has broken records for in-stadium attendance and broadcast viewership, according to the ICC and its broadcast partners Disney Star.
The ICC said a total of 1,250,307 spectators watched the 48 games at the grounds in India, surpassing the previous record of 1,016,420 spectators during the 2015 World Cup in Australia and New Zealand. The 2019 World Cup in England stands third with 752,000 spectators.
Disney Star said linear television viewership in India crossed more than half a billion with 518 million tuning in for the World Cup across the six weeks of the tournament. Total consumption on TV was 422 billion minutes, making it the biggest World Cup ever, according to Broadcast Audience Research Council (BARC) data in India.
The World Cup final between India and Australia was watched by 300 million people, with a peak concurrency of 130 million, making it the most-watched cricket match on TV according to Disney Star.
The final also broke digital viewership records, with Disney+ Hotstar recording a high of 59 million concurrent viewers, the most for any live sports event.
(Cricinfo)
Israeli settlers steal Palestinian farmers' land in occupied West Bank
Farmers in the occupied West Bank face near-daily incursions and violence from Israeli settlers, to the point that they live in fear of having their homes and land stolen, they say.
Added to that is the violence they witness in nearby urban areas, like Jein city and refugee camp that the Israeli army stepped up raids on, killing 10 people and wounding 20 in just one week.
According to the Ministry of Health, at least 237 Palestinians have been killed and about 2,850 others injured by Israeli forces in the occupied West Bank since October 7.
Farmer Ayman Assad, 45, and his family can clearly hear the attacks from their home just 2km from the camp and they have made the past few weeks a nightmare for him, his wife and five children. "The children are constantly scared, and they don't play outside any more, it's too dangerous," he told Al Jazeera.  "We can hear the attacks on the refugee camp, explosions and gunshots."
Assad said his children are no longer going to school because even if they were to brave the route there, the Israeli army is blocking many of the roads in the area. All classes have gone online.
The greatest worry right now is that his chicken farm, which is further away in Area C of the West Bank, will be attacked by Israeli settlers while he is unable to defend it. "I'm scared my land will be stolen."
Palestine is known for its olives, olive oil and vegetables, which are exported far and wide. The olive trees, in particular, are an important symbol of Palestinians' attachment to their land.
The West Bank has been occupied by Israel since 1967. Since then, about 700,000 Israeli settlers have illegally settled in the Palestinian territory. and have been stealing from, attacking and destroying olive groves, farmland and property there for years.
But these incursions have stepped up in recent weeks, as Israeli forces and settlers mount armed raids while Palestinians are confined to their homes under curfew, Abbas Milhem, director of the Palestinian Farmers' Union (PAFU) in Ramallah said. His own family's farm was among those targeted.
Just over two weeks ago, armed Israeli settlers invaded the Milhem farm, fired guns in the direction of the people working on the harvest and stole olives.  One of the workers at the farm, Iman Abdallah Jawabri, 45, was harvesting olives in a crew that included her husband when five settlers came in.
"They shot towards us as if they wanted to scare us, then when they came closer, they took our phones to prevent us from taking photos of them. Then they told all the women to leave and started hitting the men, forcing them to sit on the ground under the olive trees.  "We (the women) were still looking at them from afar. After this, they took all of our olives and forced us to leave."
The farm is now under military control despite being in Area B of the West Bank, where the Palestinian Authority technically controls civilian matters. The Milhems and their workers have been unable to return.  "The farmers are afraid of being shot if they do," said Iman.  "I have several grandchildren and fear for the future, but I also thank God for what we have and pray for the people of Gaza," she added.
"There is a second war in Palestine which is happening in the occupied West Bank," said Milhem. "It is also crucial to understand how it affects farmers in the occupied West Bank."
He added that he cannot travel to visit his ageing mother in Jenin because Israeli forces have blocked many of the roads.
(Aljazeera)