Call for end to Scotland training for Sri Lanka police over alleged human rights violations
Police Scotland must stop training Sri Lankan officers if allegations of state-sanctioned torture are confirmed, according to the UN investigator behind an excoriating report into alleged human rights abuses in Sri Lanka, says a report published by The Sunday Post of Scotland yesterday.
The report says: "Professor Manfred Nowak, a former United Nations Special Rapporteur on human rights, called for Holyrood to launch an inquiry into the claims of police brutality made by refugees fleeing Sri Lanka for Scotland.
"If their claims are established, he said, Scotland's national force must end its controversial training of Sri Lankan police and special units.
"Police Scotland insists its international training improves world policing but critics fear the force has been naive to work with the government in Colombo while its tacit endorsement is helping whitewash the torture, abduction and murder of ethnic minority Tamils, the report said.
"The long-standing police training programme – which has involved Sri Lankan officers, including some later linked to systemic torture, being trained at Police Scotland's Tulliallan HQ and Scots officers travelling to Colombo – is currently in limbo while being reviewed by the Foreign Office."
MSP Mercedes Villalba has now written to the British High Commission in Sri Lanka voicing concern that Police Scotland's training of Sri Lankan police has gifted the Colombo regime "an unwarranted legitimacy" and is "a smokescreen for human rights abuses".
"Yesterday, Nowak, a leading human rights lawyer and secretary general of the Global Campus of Human Rights, said it was alarming that torture techniques he exposed for the UN in 2007 are allegedly still being used and he urged Police Scotland to instigate a criminal investigation into the claims of refugees from Sri Lanka.
"He told The Post: "The Scottish Parliament should hold an inquiry and Police Scotland must investigate these allegations of torture and participate with the police in Sri Lanka to prosecute the perpetrators.
"If Sri Lanka does not co-operate or seek to prosecute, then this matter should be brought before the international courts as cases have been in the past."
"He said the testimonies of torture victims who have fled to Scotland in fear of their lives were strikingly similar to the allegation he uncovered in Sri Lanka 14 years ago: "The use of practices such as hanging victims from their limbs, or even their fingers, was something I encountered, as was the use of plastic bags with petrol.
"If there is evidence which shows these practices are being used by the police in Sri Lanka, then Police Scotland need to step away from any future training programmes."
MSPs have backed Nowak's call for a parliamentary inquiry. Scottish Lib Dem leader Alex Cole-Hamilton echoed his concerns and said: "Any continuation of the training arrangement Police Scotland has with Sri Lanka brings us worryingly close to a complicit relationship with people who we now know are committing torture and rape on an industrial scale.
"I very much want to hear from these torture victims and support calls for an inquiry by our Justice Committee and a police investigation."
:Labour's Shadow Justice Secretary Pauline McNeill said: "It's vitally important victims of torture and human rights abuses know we are watching and listening.
"I believe we will have strong cross-party support for Scotland to take a stance against these human rights violations."
Nowak's remarks were welcomed by human rights campaigners. Marion Pallister, of peace movement Pax Christi Scotland, said: "We hope this may be the first move towards getting justice for Sri Lanka's torture victims."
Frances Harrison, of the International Truth and Justice Project, said: "If Scotland took these groundbreaking steps they would lead the way across the world by showing the perpetrators of torture cannot escape their crimes.
"A parliamentary inquiry would act as a beacon of light to the thousands of victims of torture who live in silence and fear around the world, and send an important message to Sri Lanka that their actions will not be tolerated."
In February Amnesty International published a damning report detailing how Sri Lankan government officials repeatedly attacked and targeted human rights campaigners, lawyers representing families of the disappeared and political opponents.
"Naomi McAuliffe, director of Amnesty International UK Scotland said: "We have asked to see evidence that Police Scotland takes human rights into consideration before entering into any overseas training agreement and have received no assurances.
"There has to be consideration not only of whether overseas forces have been involved in human rights abuses but how Police Scotland's involvement might contribute towards helping other forces to conceal or downplay their human rights atrocities."
---
Earliest Sri Lanka can recover from bankruptcy is in 2027 – Dr Bandula Gunawardena
Minister of Transport and Highways and Minister of Mass Media Dr Bandula Gunawardena at a press briefing held at the Presidential Media Center today (30) said that the earliest Sri Lanka can recover from bankruptcy is in 2027, at which time it is envisaged that the countries foreign reserves which stand at USD 3.5 billion at present would increase to USD 14 billion..
Pope Francis to evict Cardinal Raymond Burke from Vatican
Pope Francis is evicting US Cardinal Raymond Burke, an outspoken critic, from his Vatican apartment and revoking his salary.
Cardinal Burke is part of a group of American conservatives who have long opposed the Pope's plans for reforming the Catholic Church.
A Vatican source told the BBC that Pope Francis has not yet carried out his intention to evict the 75-year-old and the decision is not meant as a personal punishment, the source added. Instead, it comes from the belief that a person should not enjoy cardinal privileges while criticising the head of the church.
Still, the move is "unprecedented in the Francis era", Christopher White, a Vatican observer who writes for the National Catholic Reporter, told the BBC. "Typically, retired cardinals continue to reside in Rome after stepping down from their positions, often remaining active in papal liturgies and ceremonial duties," he said. "Evicting someone from their Vatican apartment sets a new precedent."
White warned that the decision could "provoke significant backlash" and deepen divides between the Vatican and the US church, where there is already "fragmentation".
Cardinal Burke has yet to respond to the news and the BBC has reached out to his office for comment.
The Pope revealed his plan to act against the cardinal at a meeting with heads of Vatican offices last week. His frustration with US detractors who take a more traditional or conservative view on several issues appears to be coming to a boil.
Earlier this month, he fired Joseph Strickland, a conservative Texas bishop who had blasted his attempts to move the church to more liberal positions on abortion, transgender rights and same-sex marriage. The removal followed a church investigation into governance of the diocese.
A few months before, the Pope told members of the Jesuit religious order in Portugal that there was "a very strong, organised, reactionary attitude in the US church", which he called "backward", according to the Guardian.
Tensions with Cardinal Burke, who was appointed by Pope Benedict XVI, have been simmering for nearly a decade, with the American prelate openly criticising Pope Francis over both social and liturgical issues.
"Cardinal Burke's situation seems to stem from his gradual alienation from the Pope," said  White. "It appears the Pope perceives Burke as fostering a cult of personality, centred around traditionalism or regressive ideals. This action seems aimed at limiting Burke's influence by severing his ties to Rome."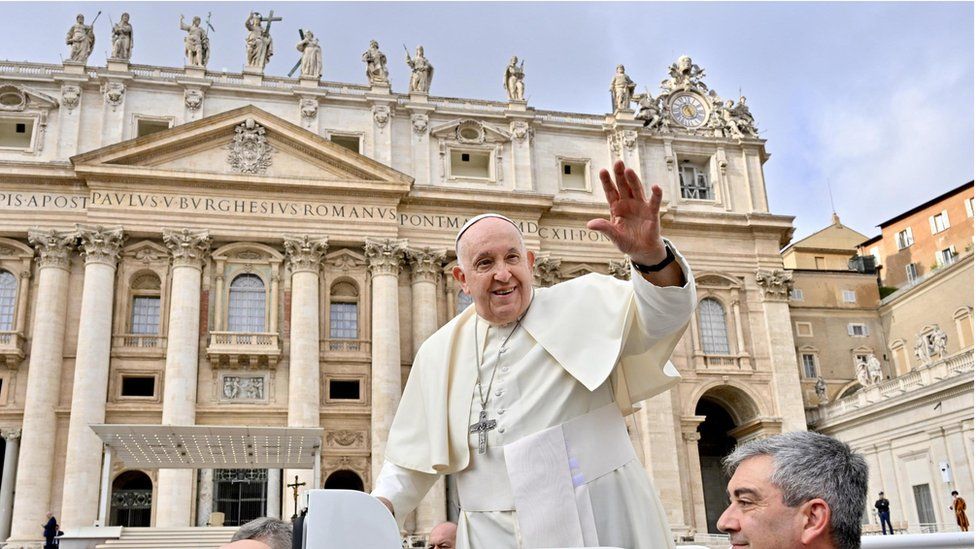 Most recently, the cardinal held a conference called The Synodal Babel in Rome on the eve of the Pope's synod, or meeting of bishops, last month.
He also joined fellow conservatives in publishing a "declaration of truths" in 2019 that described the Catholic church as disoriented and confused under Pope Francis, saying that it had moved away from core teachings on divorce, contraception, homosexuality and gender. Notably, he disagreed with the Pope promoting Covid vaccines.
Within church politics, he and Pope Francis were at odds over the firing of the head of the Knights of Malta after the order's charity branch was found to have distributed condoms in Myanmar.
The Pope, in turn, has demoted Cardinal Burke within the church hierarchy or moved him to posts with less influence over the years.
Michael Matt, a columnist for the right-wing Catholic newspaper The Remnant, wrote that the most recent action taken against Cardinal Burke showed that Pope Francis was "cancelling faithful prelates who offer hierarchical cover to pro-life, pro-family, pro-tradition hardliners". He accused the Pope of putting critics into "forced isolation".
(BBC)
Former US Secretary of State Henry Kissinger dies aged 100
Former US Secretary of State Henry Kissinger has died at the age 100.
He served as America's top diplomat and national security adviser during the Nixon and Ford administrations.
In a statement, Kissinger Associates, a political consulting firm he founded, said the German-born former diplomat died at his home in Connecticut but did not give a cause of death.
During his decades long career, Mr Kissinger played a key, and sometimes controversial, role in US foreign and security policy.
Born in Germany in 1973, Kissinger first came to the US in 1938 when his family fled Nazi Germany. He became a US citizen in 1943 and went on to serve three years in the US Army and later in the Counter Intelligence Corps. After earning bachelor's, master's, and PhD degrees, he taught international relations at Harvard.
In 1969, then-President Richard Nixon appointed him National Security Adviser, a position which gave him enormous influence over US foreign policy in two administrations.
(BBC)